You are here:  

Solid Stone Vanity Tops - Various Colors/Sizes
Solid Stone Vanity Tops - Various Colors/Sizes
Custom... Sold by the Inch.

SOLID STONE - Vanity Tops - Also Available in: Shower Walls - Shelves - Shower Floors

8 Portofino Collection colors...
5 Legacy Collection colors...

Beautiful, Easy To Maintain, Stain Resistant, Durable & Nonporous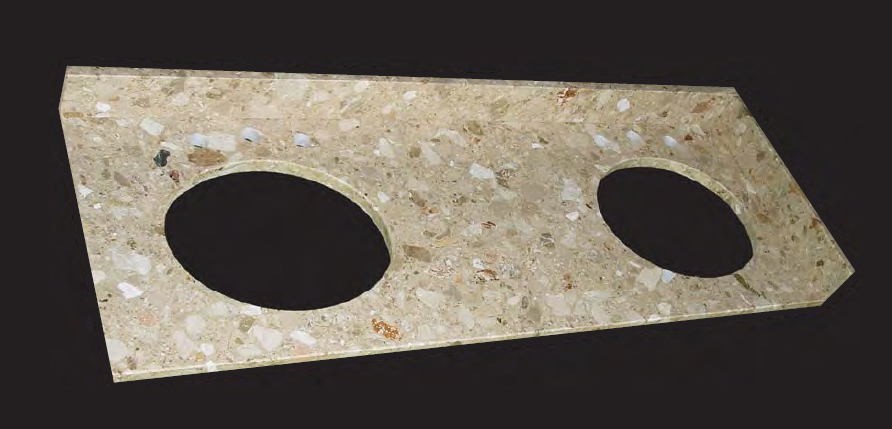 Price / COM_VIRTUEMART_UNIT_SYMBOL_:
Description
Solid Stone Vanity Tops - Various Colors/Sizes
All vanities priced by the lineal inch and are
manufactured from 3cm material.
Splashes
are manufactured from 3cm material.
Vanities are available up to a maximum of 24"
depth (front to back) and a maximum length of
61". For sizes in excess of these maximums, call
for quote.
Lineal inch price includes a 4" back splash and
faucet holes drilled. End splashes are additional
and priced individually.
All finished edges are flat polished.



Group B


Group B

Group B

Group B

Group A

Group A

Group A

Group A

---

| | | | | |
| --- | --- | --- | --- | --- |
| Group A | Group A | | | |
| Group B | Group B | Group B | | |

Variation in the natural stone (quartz) color, pattern, size, shape and shade are inherent and unique characteristics to be expected with this product. This does not affect the product performance in any manner. Color blotches are intended and designed into many colors to enhance the natural beauty. Photographs are from small select cuts from the slab; they do not exhibit all the characteristics of a color and combined with printing limitations are not fully representative of what will be installed.

Engineered marble is a stunning and cost-effective alternative to natural marble slabs and tiles. Engineered marble from Salita Showers is made from select marble aggregate (95%) and filler in a special polyester thermal set resin binder. Our engineered marble is available in a wide range of colors, popular in both residential and commercial environments.

Residential Advantages


As most designers, architects and residential consumers have come to know, natural marble is a beautiful and desirable product, yet its inherent instability and color variation make it difficult to incorporate into any project. Engineered marble bridges the gap between nature and technology by maintaining the look and feel of marble while eliminating many issues typically found with natural stone.
Engineered marble offers the residential consumer an affordable alternative to natural stone, while maintaining a greater level of color consistency and strength. Engineered marble makes it easy to match countertop slab material with floor tiles and mosaics offering uniformity to the finished space while providing the level of beauty and aesthetics only found in natural stone.

Commercial Advantages




Engineered marble is one of the most functional and practical building materials available in today's market. The natural marble is mixed with thermoset polyester resin in a high-pressure environment. The resulting precast material is ideally suited to interior commercial environments such as flooring, wall cladding, transaction tops, bathroom dividers, vanity tops and even stair treads and risers.